Ever since 2013 we have been operating as an established and well-trusted European cryptocurrency platform. Most recently we decided to offfer the possibility to integrate our fiat-to-crypto onramp into third party platforms or applications. Our turnkey API enables your users to buy cryptocurrencies the way they prefer, without ever leaving your platform. We take care of all KYC and AML requirements, so you can focus on your core business. Sounds cool?
Let's get in touch!
Tailored for the European market
Thanks to our exclusive partnership with our payment service provider we are able to offer all kinds of local payment methods that are being used in geo specific parts of Europe very often, as well as traditional payment methods such as banktransfer or creditcard. Thanks to these local payment methods and because of the fact that we offer a multilingual API with integrated support, it is safe to say that this is the most comprehensive fiat gateway for the entire European region.

Multiple payments
Matching your users preferences
VISA
Mastercard
Bank Transfer
iDEAL
Bancontact
Sofort Banking
EPS
Giropay
Multilingual
Since you have more than just one user
Englisch
French
German
Spanish
Dutch
Portuguese
More languages will follow...
Multiple coins
To serve the needs of all your users
Bitcoin
Ethereum
Litecoin
Ripple
Bitcoin cash
More coins will follow...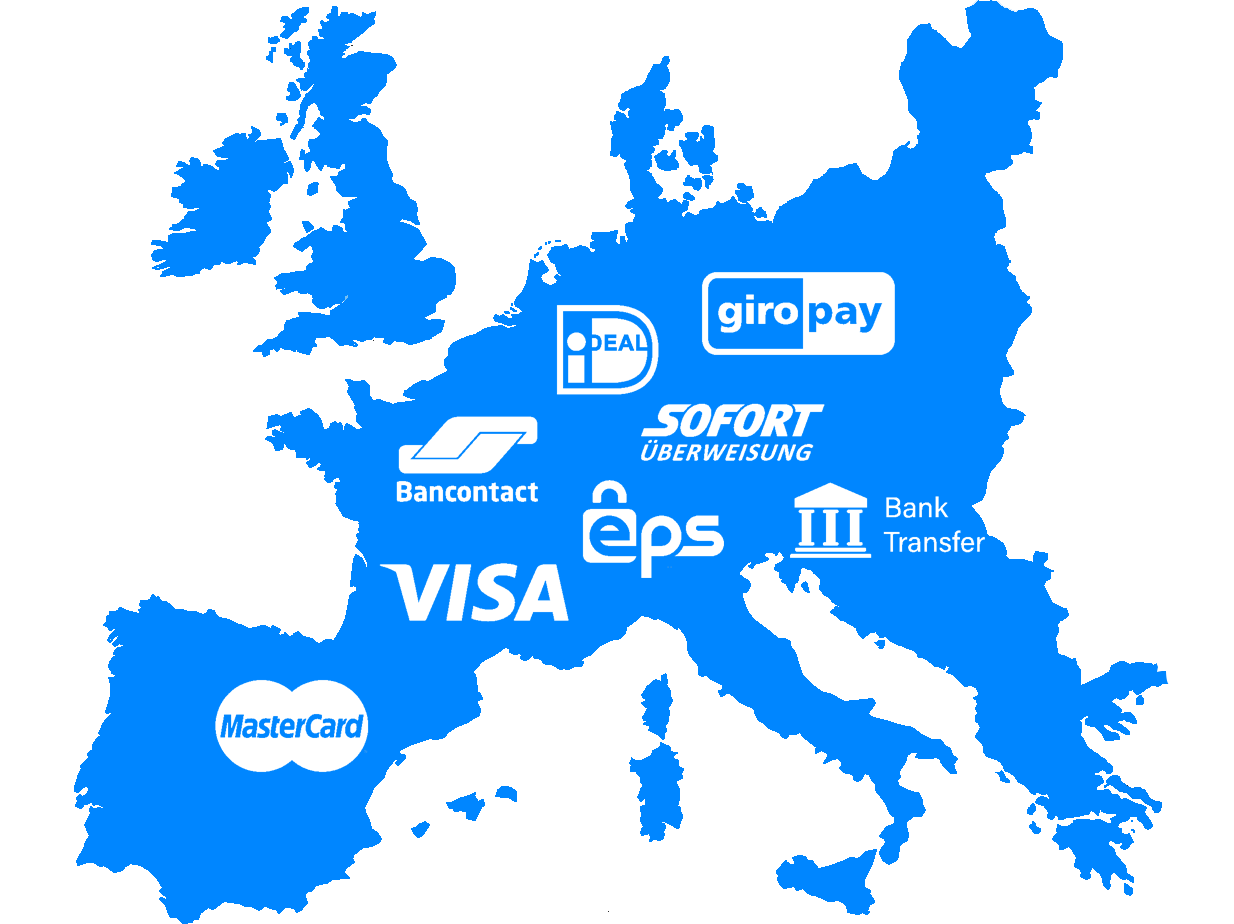 Most competitive fees
With a 1% - 1.5% B2B trade fee and very sharp payment method fees, we can safely say that we offer the most competitive commissions in the crypto industry. This allows you to easily add an extra 1-2% on top and still offer very competitive fees. We don't charge a minimum fee and your users can buy or sell for as low as 30 euros with instant coin delivery.
Fiat to crypto fees
Payment fee
Trade fee
All in fee
• Banktransfer
-
1.5%
1.5%
• Credit card
1.5%
1.5%
3%
• iDEAL
-
1.5%
1.5%
• Bancontact
1.1%
1.5%
2.6%
• Giropay
1.3%
1.5%
2.8%
• EPS
1.3%
1.5%
2.8%
• Sofort banking
1.5%
1.5%
3%
Crypto to fiat fee
• Banktransfer
-
1%
1%

See how it works
Do you want to take a look on how our API works? Go ahead and check out the API Documentation! The documentationis interactive, so you can test the various endpoints the API contains as well.
If you prefer a ive demo via our internal sandbox by our devteam, please get in touch.




Contact
| | |
| --- | --- |
| | |
| Davy Stevens | Toon Schraven |
| Head of BizDev | Head of MarCom |
| E-mail Davy | E-mail Toon |
| @davy_btcdirect (telegram) | @toonschraven (telegram) |


Frequently asked questions

• Business development
Over the past 7 years we've specialized in the European region, which means that we currently support al the 33 SEPA countries. Because of that focus and experience, we can safely say that we offer the number one fiat gateway for the entire European cryptomarket. That being said: we expect to serve other parts of the world somewhere in Q4.
At the moment we offer a fiat to crypto onramp. In the beginning of the fourth quarter we will finish the offramp as well.
BTC Direct will pay out on a monthly basis. We have no minimum or maximum amount for paying you out.
We deliver from out of our own stock so we can offer instant coin delivery to the end users. Therefore a transaction will take no longer than a maximum of 10 minutes for altcoins and 15 minutes for bitcoin.
The minimum amount is 30 euros. The maximum amount is 10K on a daily basis.

• Legal & compliance
Ofcourse we are willing to white label our solution as much as legally possible. This means that you are free to adjust the flow to your own color palette, brand font and logo where this is legally applicable.
In the entire region that we serve it is required to have a KYC policy. Your users only have to go through our KYC process one single time. We have a 10 minute SLA on the onboarding process so your users are ready to buy within just a few moments. From there on, every repeated buy and sell order from within your application will be instant, without going through KYC and, due to our xPub connection with your wallet, even without logging in.
We work with Mitek for our KYC checks. By integrating with them we have a fully automated onboarding process with a 10 minute SLA and a 70% success rate on onboarding new users.
A refund can be executed by BTC Direct up until the point where the cryptocurrencies have been sent. A refund cannot be requested by the user, so only BTC Direct will be able to decide whether or not a refund will be executed. This will happen, for example, when we have determined that the transaction is fraud-related or when a transaction is in conflict with our Terms of Service. An example of such a conflict is a payment from a bank account that is not registered to the user. Refunds are executed via our PSP and they usually take around one or two business days to be completed. Since you as an API partner won't have to settle a transaction, you won't have to worry about anything that is related to refunds either.

• Tech & development
In our opinion there are two ways of implementing our API. The difference is based upon what kind of unique identifier is being used to identify the users. This can be xPub based or user-credentials via oAUTH based.
We don't have a geoblocking rule. However, users will only be able to onboard via our API when they have an identity document that is accepted in the European SEPA region.
Since it concerns a restful API, we haven't enabled CORS.
We can give your dev team a demo via our internal sandbox.

• Customer support
We offer a 7 days a week, multilingual customer support. Your users can always contact our customer support when it comes to questions related to our services (fiat onramp and offramp).
We offer a 7 days a week, multilingual customer support for the following languages: Englisch, Dutch, French, German and Spanish. More languages will follow in the nearby future.