Technical Analysis week 36
The week started of pretty well. Bitcoin was at its highest price point since last June, and a new bullrun seemed to be coming up. Unfortunately, that changed quickly since the price dropped all of a sudden… What's next?
Whilst writing this update, one bitcoin is worth approximately 5.600 euros. That's a drop of more than seven percent compared to last week. However, this price drop doesn't mean that we need to write of the bull run completely…
Failed outbreak negative trend
On July 25th, the price tried to break trough a strong resistance zone, unfortunately it was in vain and prices dropped sharply in August.
Last Wednesday, September 5th, the price tried to break through the resistance level once again. Sadly, this attempt was without result as well which led the price to decrease.
Even though the price decreased, it remains above its support level which is currently set at give or take 5.000 euros.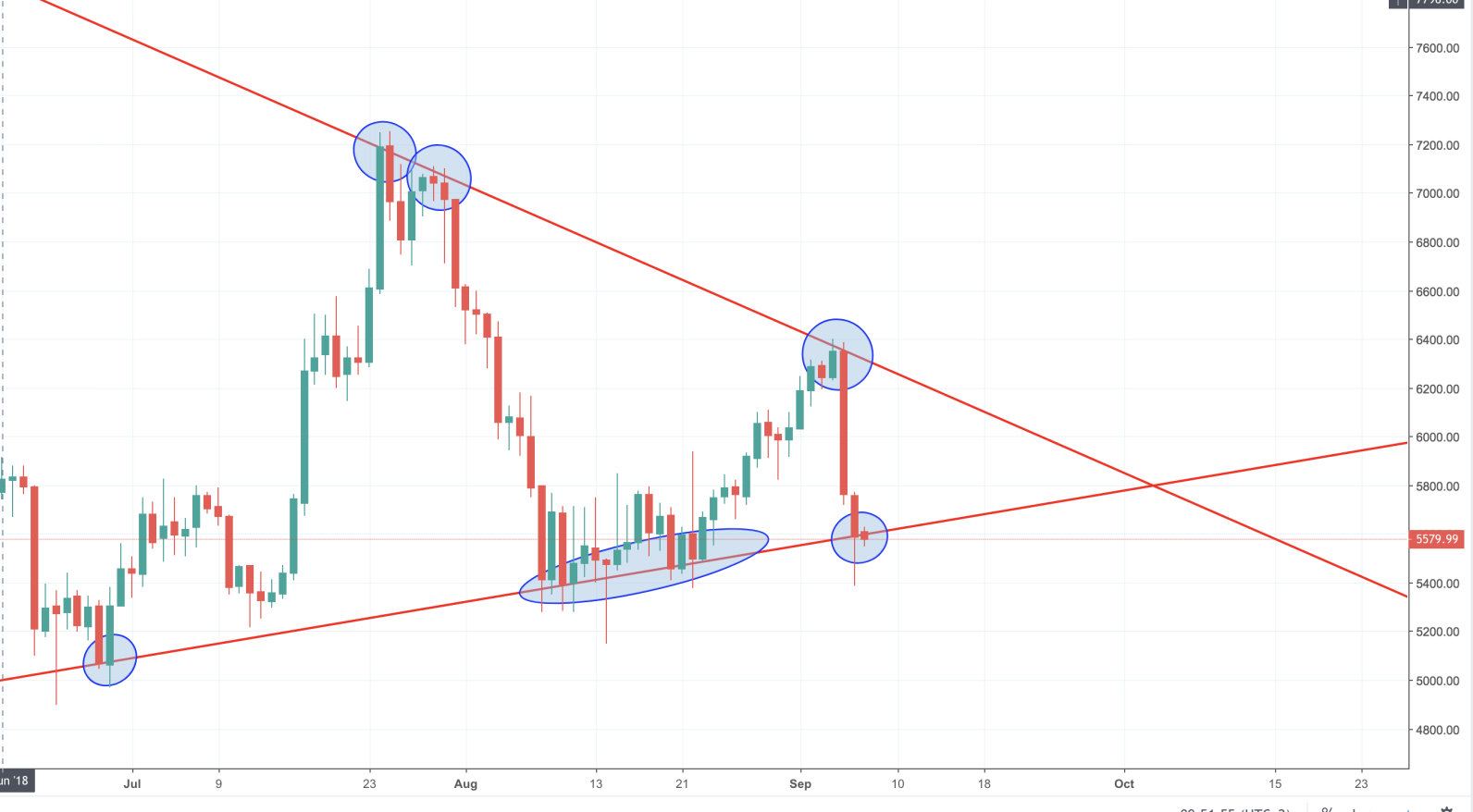 Indicators are fairly positive
In order to determine what a price movement will do next, we normally use two indicators; The RSI and the MACD. The first indicator tells us if a coin is oversold or overbought. Currently the coin is highly oversold. The only time bitcoin was oversold more was after the price drop of last June.
According to this indicator, sales will decrease a lot these coming few days. However, this doesn't mean that prices will change instantly as well.

The MACD-indicator shows the strength or weakness of a certain movement. In the beginning of this week the MACD was green which is quite special since it had been a year since we saw a green MACD indicator.
Many thought this meant the bear market was over, but a couple of days later prices dropped heavily. The drop didn't make the MACD-indicator change it signal to negative though, which means the trend is strong enough to bounce back.
Scenarios
To give you an idea of the possibilities for next week, we will walk you through two scenarios: bullish and bearish. Which one will it be?
Bullish
The bitcoin price currently remains above its support level, however it did drop beneath its support level sometimes for a short period of time these past couple of days. If bitcoin closes of the week below its support level this could mean a strong bearish reversal is coming up. The market could fall back into the bear market of the past couple of months.
Bearish
Before we're able to speak of an actual bear market, prices need to increase quite a lot. For starters, the price needs to bounce back to the highest point of the past week which was set at 6.400 euros. After that we need to soar even further to the next resistance point of 7.200 euros. When that happens you can definitely define the market as being bullish.
The information provided in this technical analysis can't be seen as financial advice in any way whatsoever. Nothing published by BTC Direct constitutes an investment recommendation, nor should any data or content published by BTC Direct be relied upon for any investments. The trading of digital currencies involves significant high risk.