BREAKING: Bitcoin price increases by more than 14 percent!
Last Friday the first signals popped up already, bitcoin crossed an important trend line that has been present since 2018. The bitcoin price was fluctuating within a so-called channel for quite some time, but those days seem to be over for now.
The price has increased by more than 14 percent in merely one hour. It even briefly reached the price mark of 4.500 euros and now seems to stabilize around 4.200 euros. Where did this sudden increase come from?
Bitcoin crossed a trendline
The graph below shows the bitcoin price along with that trend line we've already discussed. What has happened so far?
Friday the first signals of an increase appeared, that's when bitcoin broke through the trendline.
After that, the price was testing the trendline. This means that the price keeps bouncing on the line, but doesn't drop below it.
The test has been successful: the price found enough support for this price level and increased up to 4.500 euros in just one hour.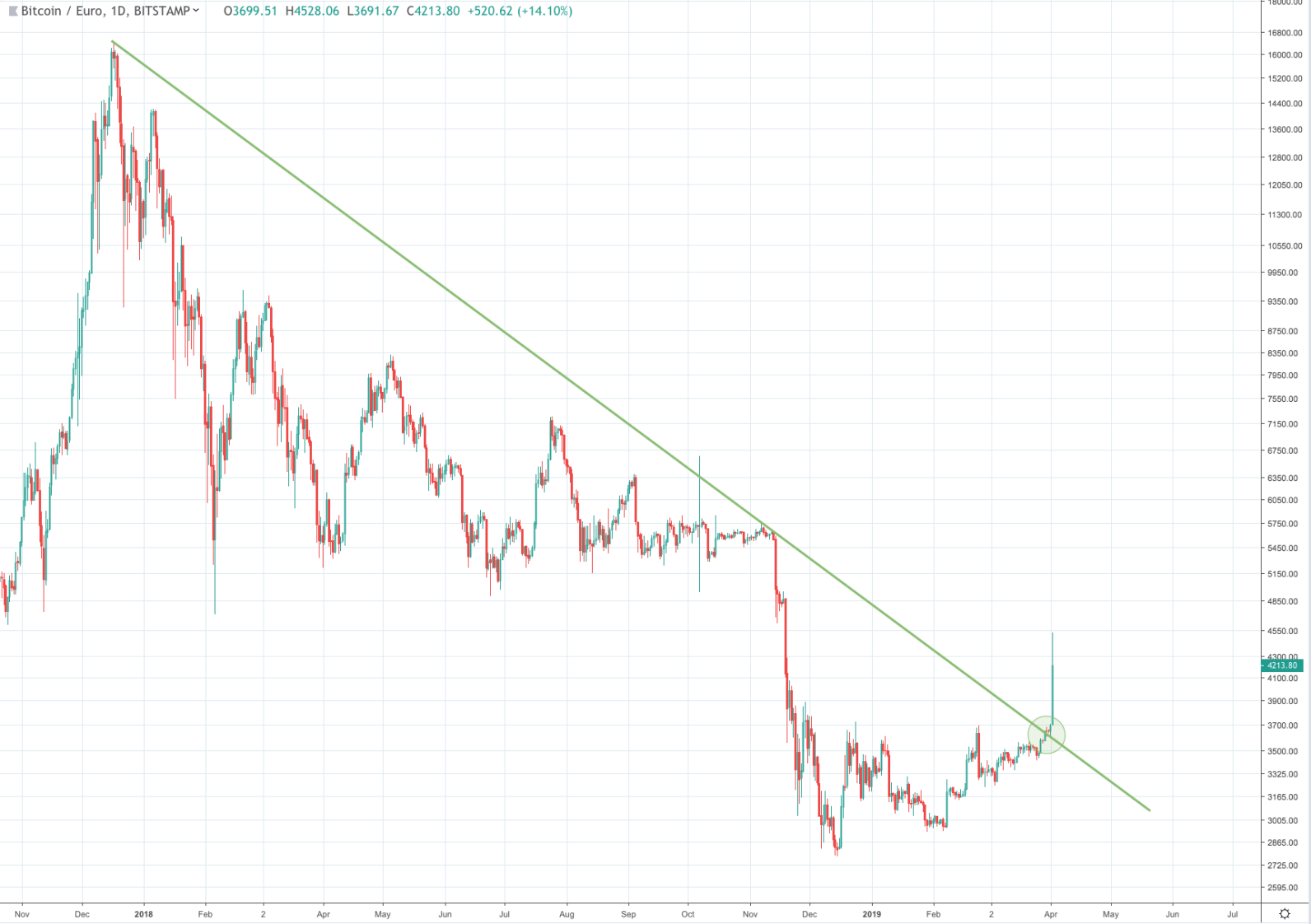 A quick zoom in: was it a short squeeze?
Below you will see an even clearer image of bitcoin testing the trendline. Bitcoin touched the line twice before it increased even more. But the increase happened very rapidly, that's why we think a short squeeze took place.
Just like with other financial products, you can speculate on the bitcoin price. A trader could speculate that the bitcoin price will rise which is called a 'long position', or drop which is called a 'short position'. When a price is on the rise, traders usually 'go short'. They are expecting that the price won't be increasing for long and speculate on a price drop.
If you go short, you promise to purchase bitcoin for a certain price. If the price keeps rising, these positions are automatically closed. When a lot of short positions are closed at the same time of: a lot of bitcoin are bought simultaneously which leads to a price increase.
It looks like this has happened now: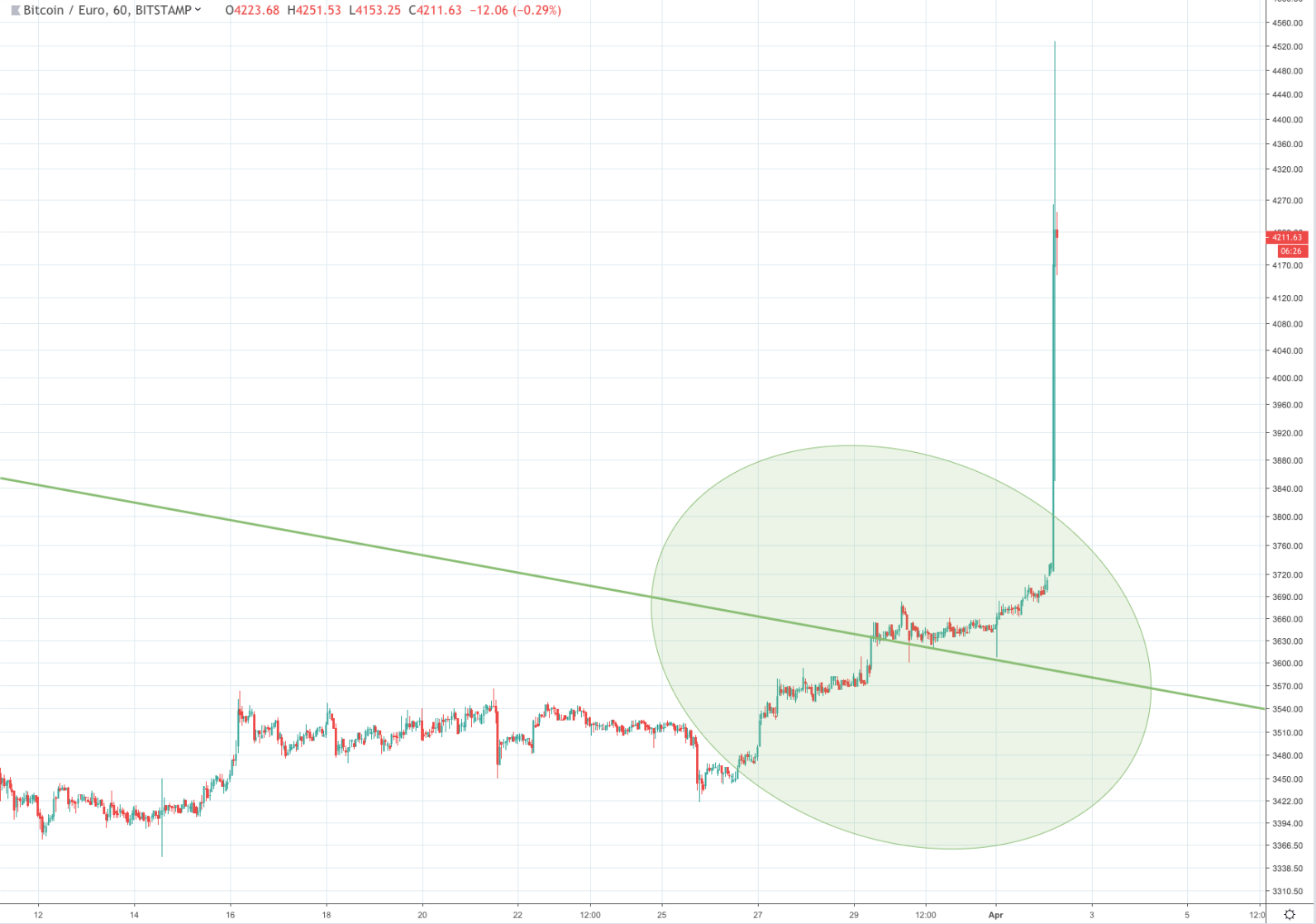 The Moving Average as support
A short squeeze doesn't have to be a bad thing. It could be that bitcoin just needed a nudge in the right direction. To understand this better we will look at the Moving Average.
A Moving Average(MA) takes the average price over a certain period of time. An often used Moving Average is a 200-days MA as sort of a dynamical trendline. This is shown in the graph below.
In 2018 bitcoin didn't manage to surpass the 200-days MA. The line formed a strong resistance.
Now the price has surpassed the MA for the first time in over a year. If bitcoin stays above this line this could be a very positive signal.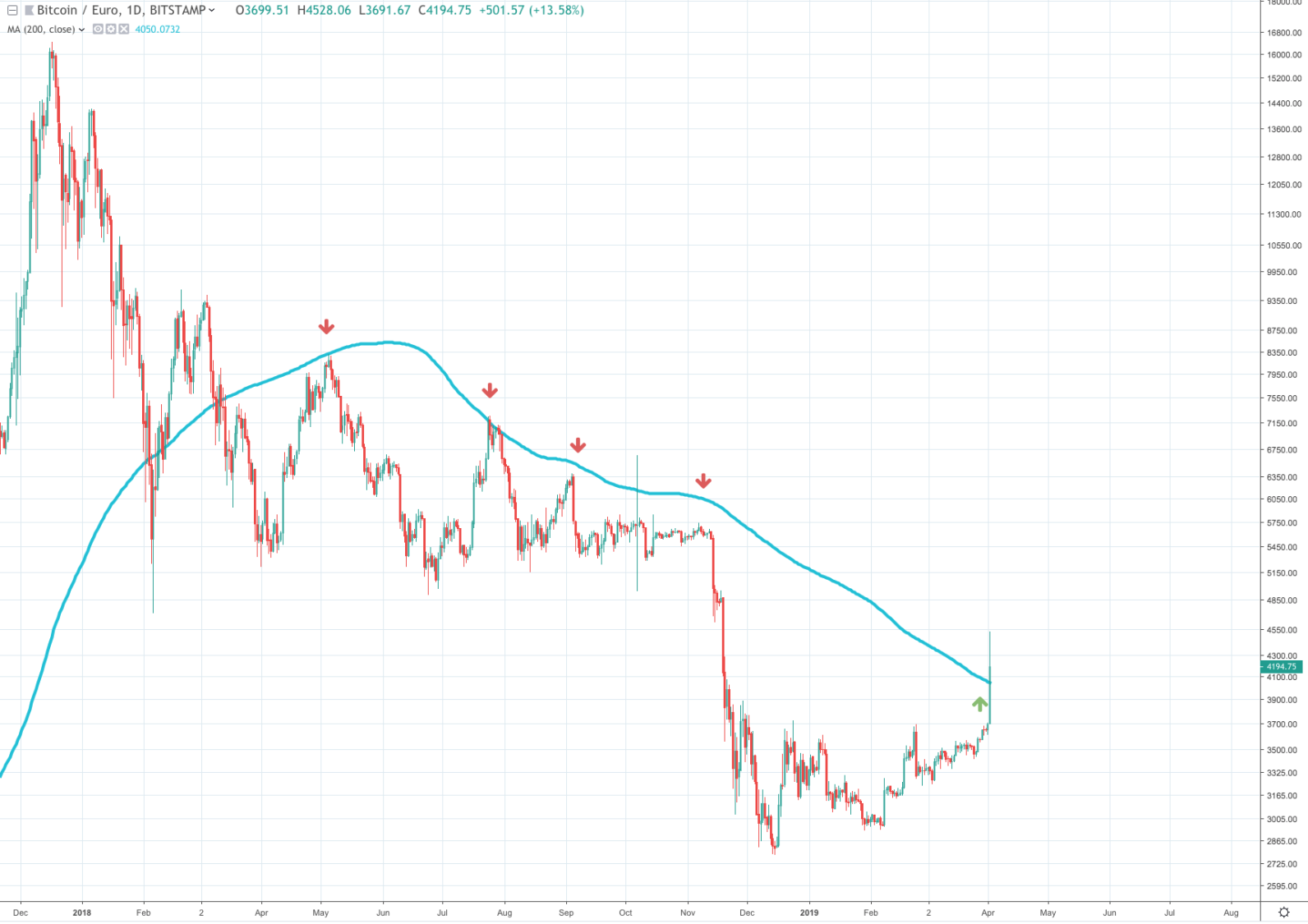 What will the bitcoin price do?
Like always, we will describe two possible scenarios: Bullish (positive) and Bearish (negative).
Bullish
If the price continues to increase there is an important resistance point ahead. This zone used to be a steady support zone in 2018: between 5.000 and 5.200 euros.
Bearish
If the price increase doesn't pull through, it is expected the resistance point of last week will be the new support this week. This means the price will find support again between 3.600 and 3.800 euros.