Would you like to trade in bitcoin? Then you will need an account
Follow the real-time bitcoin price
Bitcoin always has a price- 24 hours a day, 365 days a year. There are no opening or closing hours like on stock exchanges. In the graph above you can adjust the time frame. Would you like to see last week's price? No problem! Are you looking for a more long term price development? That's also possible by choosing the option 'All'.
The price is based on international bitcoin exchanges where buyers and sellers come together. On this page you will find more details on the current bitcoin price in euros.
History of the bitcoin price
Since bitcoin was launched in January 2009, its price fluctuates heavily. Movements of 10 percent or more per day are not uncommon. This is often being referred to as price volatility and causes the coin to regularly appear in the news. At the end of 2017, bitcoin reached its all-time high to date. One bitcoin was worth approximately 17,000 euros at that time.
Some facts about the bitcoin price throughout the years:
The bitcoin price has increased enormously since its introduction in 2009. In May of 2010, an American software developer bought two pizzas for 10,000 bitcoin. We hope he enjoyed them, because those pizza's would've been worth millions at today's prices.
In the beginning of 2013 bitcoin was valued at 25 Euros. By the time the year was up a bitcoin would have set you back a little over 1000 euros! The financial crisis of Cyprus was somewhat responsible for such price increases.
But things turned ugly in the beginning of 2014. The market was hit hard by the bankruptcy of Mt. Gox, the first and the largest bitcoin exchange at that time.
A year later, the leading European exchange Bitstamp was hacked and 19,000 bitcoin went missing. Negative reportings like these caused the price of bitcoin to decrease rapidly. In January 2015 the price had traced all the way back to 180 euros.
By 2017, bitcoin fought its way back up again until it reached a price of 1,000 euros. The second half of 2017 brought immense media attention and with it came exponential growth in price. Bitcoin reached a new all-time high of 17,000 euros.
Afterwards, the price traced back considerably, but we've become used to that. What will the future hold for bitcoin? Who knows!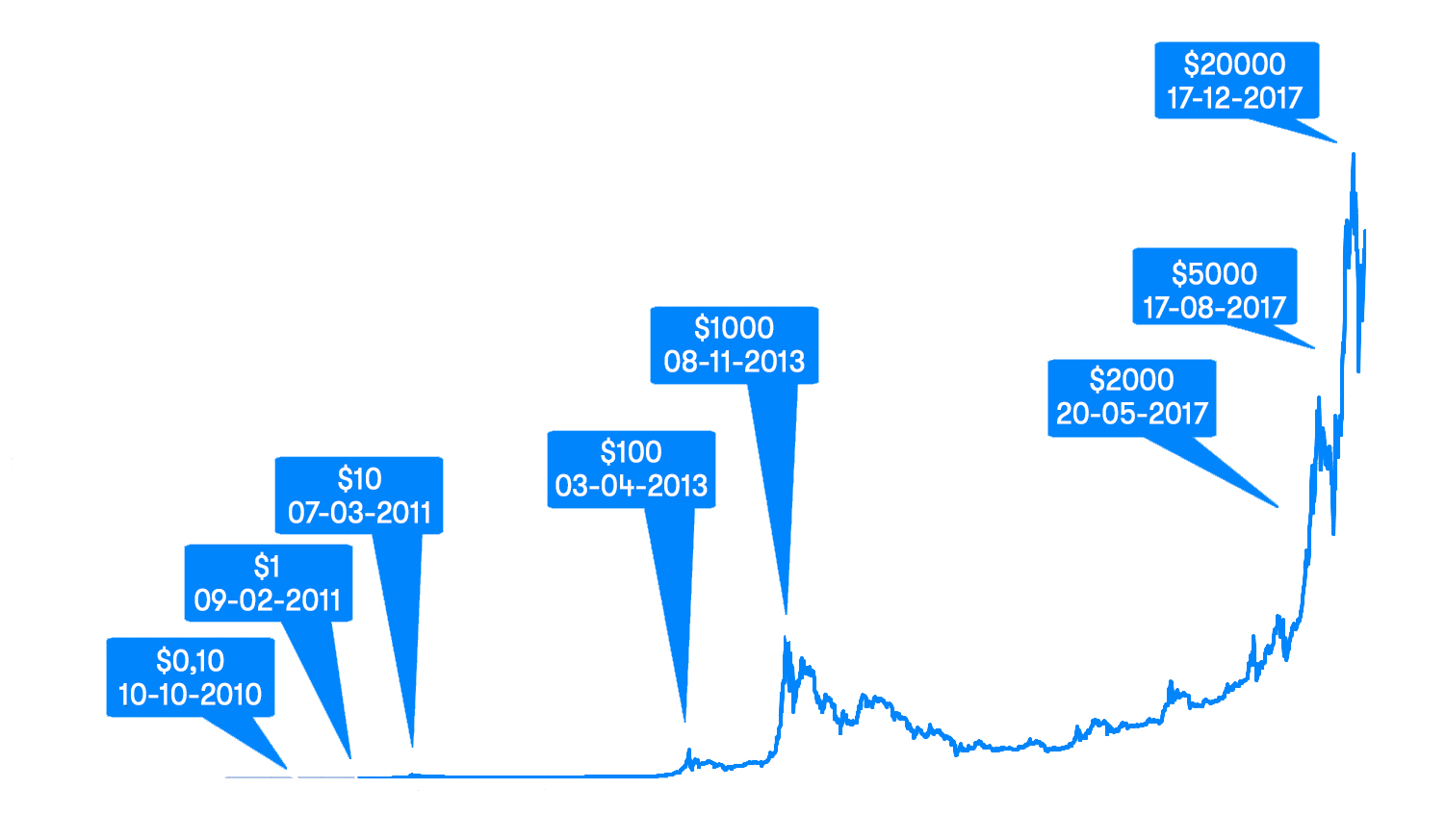 Will bitcoin stabilise?
The price of bitcoin is characterised by substantial fluctuations. This is called volatility. A frequently asked question is why the price is so volatile. To understand this, it helps to compare the total market cap of cryptocurrencies with other financial markets.
The total market value of bitcoin is approximately 180 billion dollars. The market value of the entire crypto market is roughly 450 billion dollars. While this may seem a huge amount of capital, it is actually a mere splash in the ocean. In comparison, the total market value of Apple, a single company, is four as much: more than 900 billion dollars.
So the cryptocurrency market is still rather small. As a result, relatively small amounts of money can cause some rather serious price movements.
What to expect from the bitcoin price?
The person that can predict future price movements of bitcoin would be a very wealthy individual indeed- if only we had a crystal ball! We're often asked to give some sort of prediction of what the price per bitcoin will be by a certain date in the near future. The honest truth is that we have no idea either. We're very optimistic about the long term, that's for sure, but to say what the price will be in three months from now would be a complete shot in the dark.
What we can say however, is that the price of bitcoin depends on multiple factors.
In the short term, media reports can be of great influence. If Twitter's CEO were to state that he expects bitcoin to be the currency of the internet, it's an opinion that will likely dramatically improve bitcoin's sentiment and consequently push up the price.
On the other hand, rumours of regulation by the government can cause the price to drop. This isn't necessary at all, since regulation can contribute to the acceptance of bitcoin. For example, regulation can inspire large investors to enter the market and encourage stores to accept bitcoin as a payment method.
However, the most important thing is that the bitcoin network keeps evolving and that it has a strong foundation. Luckily, that seems to be the case. The amount of people that use bitcoin has increased enormously, just as the amount of daily transactions. The computing power of the bitcoin network has never been so high. Developers are working concurrently around the clock and software is always being vigorously tested and improved. These trends and improvements don't seem so spectacular on the surface and in turn don't necessarily get the media attention they deserve, however, they are certainly the ones that matter.
Only invest an amount that you can afford to lose
Last but not least, we always recommend investing an amount of money that you can afford to lose. In our opinion, investing in bitcoin is one of the more interesting investments you can make, but equally it can be risky due to its volatile behaviour.