In this article we'll teach you how to store your ethers safely. You will need a wallet to do so. There are different types, but no matter which kind you choose, you will always be in charge of managing your coins. We'll make sure you are able to purchase and store your ethers carefree.
What's an ether wallet?
An ether wallet is similar to an online bank account; from your wallet you are able to send, receive and manage your coins. You can use our platform to buy or sell ether, but we do not manage your coins for you. You do this yourself in your ether wallet.
Cryptocurrency wallet explained for beginners
Which ethereum wallet should I choose?
There are different types of wallets, each with their own characteristics. There are mobile wallets, software wallets and hardware wallets. With a mobile wallet you store your coins on your smartphone. A software wallet needs to be downloaded on your computer, and a hardware wallet is a physical device. In the overview below you can see which one suits you best.
Mobile wallet
Managing your coins using a smartphone Read more
Carry your wallet with you
Free
Less safe than a hardware wallet
Software wallet
Managing your coins using a computer
Read more
Managing your coins using your PC or laptop
Free
Less safe than a hardware wallet
Hardware wallet
Managing your cryptocurrencies from a physical device. Read more
Tip: You can use the Coinomi mobile wallet to buy your crypto's at BTC Direct, without ever having to switch between tabs and applications. And since you don't have to copy and paste your receiving address anymore, it's way more simple and safe as well!
How do I create an mobile ether wallet?
Creating an ethereum wallet is very easy. There are various options for storing your ethers. Each type of wallet has its own characteristics, and are different in terms of ease of use and safety.
Which wallet should you choose? That depends on what you want to use your ethers for and what your buying needs are.
Are you buying ether for the first time? Then a wallet for your smartphone is quick, easy and user-friendly. One of the most used mobile wallets for managing your ethers is the wallet from Coinomi. You can read below how to create such a wallet:
Go to the app store (iOS) or to Google Play (Android).
Search and download Coinomi.
Open the app and write down your recovery sentence of 24 words. Very important, this is the backup of your wallet!
Set a strong password.
Add ethereum to your wallet.
Use your receiving address to receive ether.
What's an ether receiving address?
Each wallet has its own receiving address. This is a unique sequence of numbers and letters, that always start with 0x. It's similar to a bank account number. Would you like to receive ether? Then you provide the sender with your receiving address. Would you like to send ether to another wallet? Then you need the receiving address of the recipient.

This is an example of an ether address: 0x1D1479C185d32EB90533a08b36B3CFa5F84A0E6B. Please note: this is just an example address. Make sure to always copy the receiving address from your own wallet.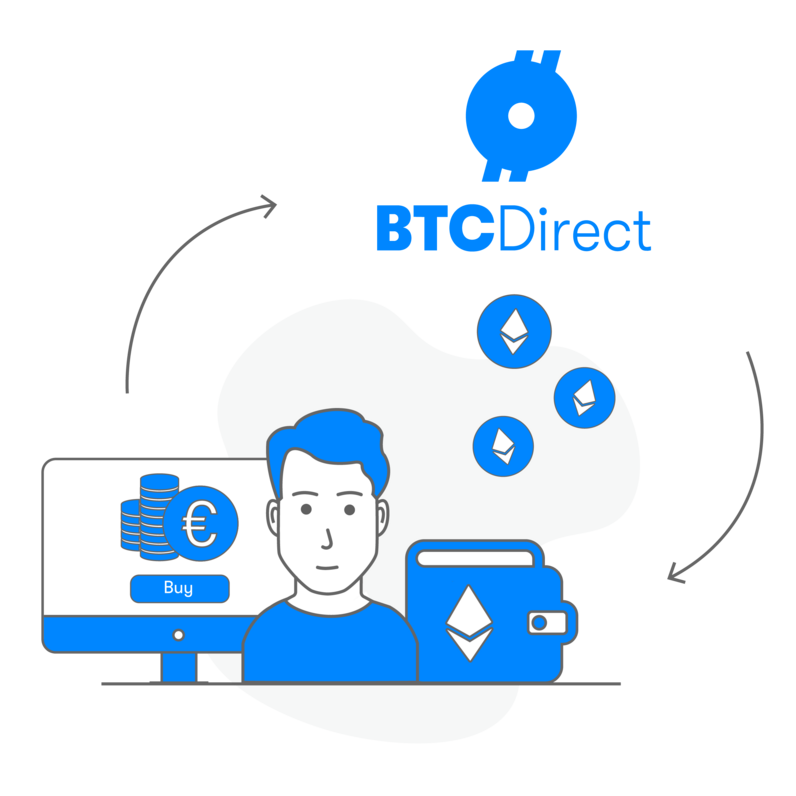 Safety and backup
You are responsible for storing your ether safely. It's important to keep your digital wallet safe, just like you would your physical wallet. If your wallet isn't properly secured, hackers might be able to access it and steal your coins.

The best way to keep your wallet safe is to store your seed phrase (also referred to as recovery seed) offline. The seed phrase is usually a sequence of 12 or 24 words, which functions as a backup for your wallet. Write the seed phrase down with pen and paper, and store this in a safe place. Do not store it online or even digitally, since most devices are connected to the internet, and are therefore vulnerable to hackers.
Note: a much used extra safety measure is Two Factor Authentication (2FA).
Summary
You now know what an ethereum wallet is and how to create one. You've learned what a receiving address is and how to use it when you want to purchase ether. We have also explained how to secure your wallet.

Do you have any more questions about securing your wallet, or about wallets in general? Feel free to contact us, we're happy to help!
Let today be your first day in the world of crypto. Get started with buying your first ether by clicking this button