Private Trading Desk
Investing in Bitcoin with a personal touch
Want to invest EUR 50,000 in Bitcoin? Our Private Trading Desk is the solution for you. An experienced advisor will help you buy and sell Bitcoin and develop a personal investment strategy. Also, our dedicated advisors are sparring partners to update you on the latest developments. Hundreds of high net worth individuals, corporations, and family offices trust us since 2013.
5 benefits of Private Trading
✓ Personal guidance and tailor-made advice
Money evolves and we believe Bitcoin belongs in the wallet of every serious investor. But we understand better than anyone that the complexity of cryptocurrencies can be overwhelming. As a Private Trading client, you will be assigned a personal account manager. They will help you buy and sell Bitcoin and answer all your questions. This can be done by phone, email, or chat. Also, as a Private Trading client, you are welcome at our office in the Netherlands for a 1-on-1 introduction or an on-site presentation, depending on your preference.
✓ Direct settlement
Call, mail, or chat with your advisor and place your order immediately at a fixed price. This can be done within one minute. As a Private Trading client, we execute orders for you outside of regular exchanges. We do this on so-called OTC (over-the-counter) desks. The liquidity on most regular cryptocurrency exchanges is often not the best option for executing large orders.
✓ Pay afterward
Invest in Bitcoin when it's convenient for you, not for the banks. Place your order immediately and pay within two business days. No longer wait for funds to settle before buying Bitcoin.
✓ Higher limits and lower costs
Save money, time, and most importantly a lot of effort with our service. You are not bound by limits, as a Private Trading client, you can trade Bitcoin from EUR 50,000 and at only a 1% transaction fee per order. A large order on regular exchanges can result in slippage. That is the difference between the expected price and the price at which the order is executed. That problem is minimized using OTC (over-the-counter) orders.
✓ Exclusive market analysis and knowledge sharing
All our advisors have years of experience in the cryptocurrency market, you can ask us anything. We are happy to share our knowledge and experience in the form of market analyses, macro-economic news, and the latest developments in Bitcoin and cryptocurrency. Also, we offer our Private Trading clients the possibility to participate in periodic (online) masterclasses.
Your personal advisor
As a Private Trading client, we don't just help you buy and sell Bitcoin. Our skilled Bitcoin experts will guide you through the world of cryptocurrencies. We can help you with your private investments, but also if you are thinking of investing with your business.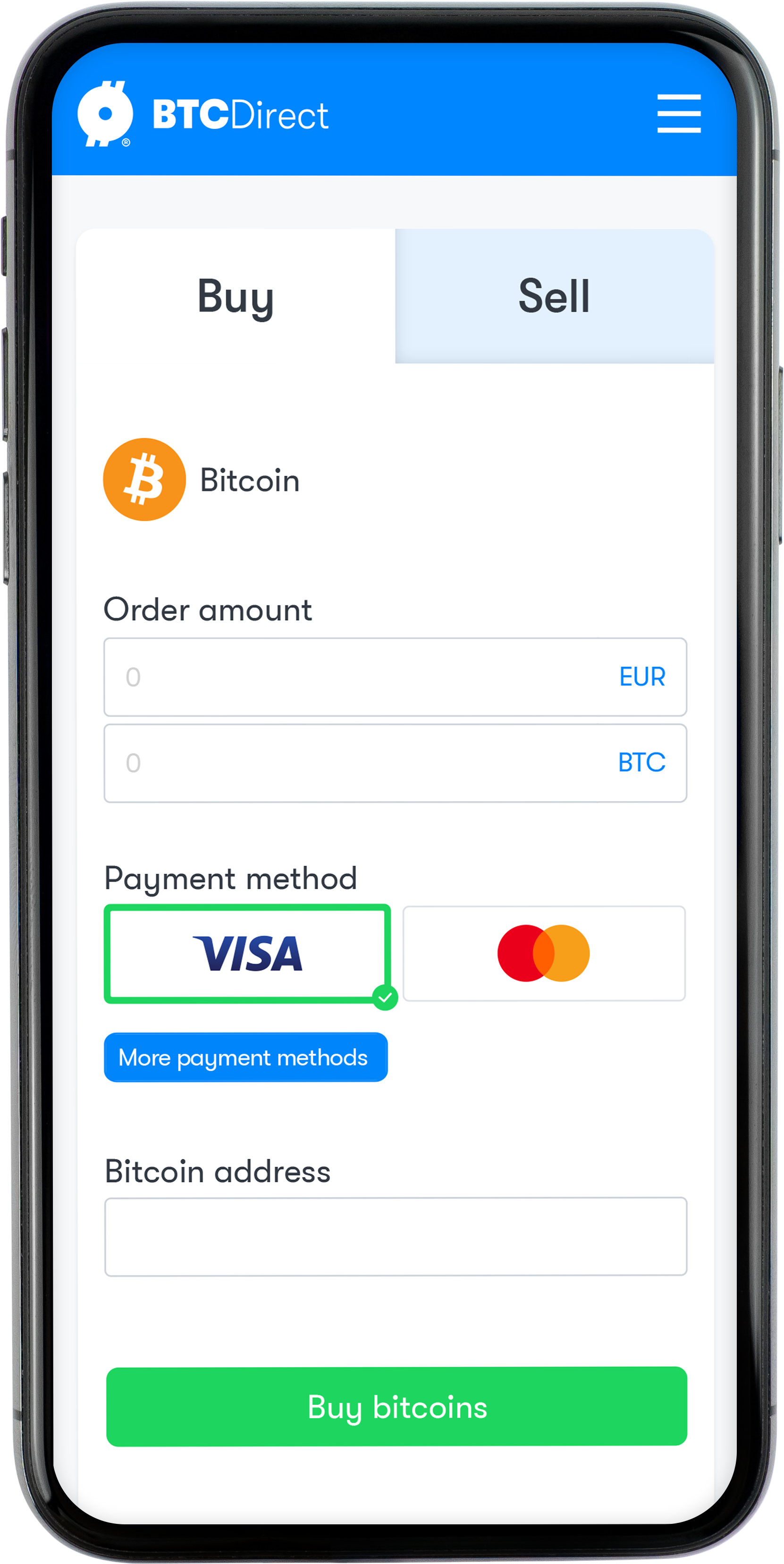 Personalized coaching
In just 3 simple steps
Get in touch
By email, phone call or even via whatsapp.
Create an account
No worries, our account manager will assist you from A to Z.
Place an order
Your personal advisor immediately executes your order at a fixed, low price.
Contact or call back without obligation
Want to use our Private Trading Desk? Mail us your telephone number via [email protected]. A personal advisor will contact you as soon as possible via e-mail or telephone.
Private Trading in the media
Yahoo! Finance
Founded in 2013 as a crypto broker, the Netherlands-based BTC Direct also provides a crypto trading app called BLOX and a private trading desk.
Business Insider
Buying and selling Bitcoin is easiest at an online cryptocurrency broker such as BTC Direct.
Cointelegraph
BTC Direct, one of Europe's leading cryptocurrency companies, has always strived to be on the forefront when it comes to complying with regulators.
NasDaq
Netherlands-based fiat-to-crypto gateway BTC Direct has raised a little under $13 million in a series A funding round led by undisclosed investors.