Vitalik Buterin is the mastermind behind the Ethereum network. Who exactly is he actually and what is his background? Read all about the prodigy that spawned Ethereum into what it is today.
The youth of Buterin
Vitalik Buterin was born in Kolomma, a Russian city near Moscow. At the age of six he emigrated with his parents to Canada.
It soon became clear that little Buterin was a clever cloggs. At the age of 8 he ended up in a class for gifted children. He progressed to excel in mathematical programming and economy at higher education. A good basis for the cryptocurrency world, as it turns out.
Vitalik's involvement with Bitcoin
As of 2011, Vitalik Buterin is slowly but surely being introduced to the wonders of bitcoin. In 2011 Mihai Alisie approached Vitalik asking him to write for Bitcoin Magazine- one of the first news websites about bitcoin. Buterin is only too happy to accept this challenge. Until 2014 he wrote many pieces for the news platform.
As he digs his claws into the world of bitcoin, he learns more and more about the possibilities of the coin. As he digs deeper he also believes that there can be more to cryptocurrencies than just bitcoin. Bitcoin seems to have its limitations. It isn't malleable enough in its attributes despite it being an excellent platform for peer to peer transactions.
Buterin sees that blockchain technology can also lend itself to something else, for example, to run decentralised applications. From there on out, Vitalik envisioned a new network, a new cryptocurrency for the world of blockchain.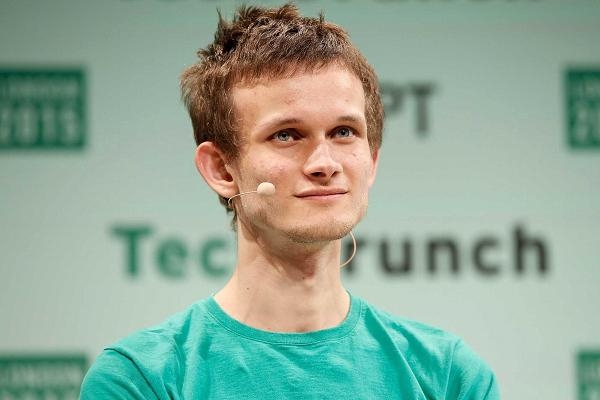 The birth of Ethereum
By the close of 2013, Vitalik Buterin began writing the whitepaper for the Ethereum platform. Quite a feat for someone who at this point was still a teenager.
Slowly but surely more and more people were turning heads towards the project. It wasn't long before a development team jumped aboard. In the early days the Ethereum development team consisted of Vitalik Buterin, Mihai Alisie, Antohony Di lorio, Charles Hoskinson, Joseph Lubin and Gavin Wood.
In January 2014, Buterin unveiled the Ethereum project to the general public for the first time. At a bitcoin meeting in Miami he tells the audience about his new invention. A few months later, the crowdsale of Ethereum begins. At that time, interested investors can be the proud owner of one ether for a mere 31 cents!
Vitalik Buterin announces Ethereum.
Over 31 thousand bitcoin was collected during the crowdsale. At the time, that accounted for about 18 million euros. With that money Vitalik Buterin founded the Ethereum foundation in Switzerland. This is a non-profit organization that oversees the developments on the Ethereum network.
In July 2015, Buterin and his team launched the first version of the Ethereum network. On this network, developers can already probe it with decentralised applications.
The rest of Vitalik's invention is history. In just a few years time, ether has become one of the largest cryptocurrencies as a cryptocurrency. The platform is frequently used to build new decentralised applications and has become a benchmark in the crypto world.
Ethereum Alliance
The growth of the Vitalik platform was given a new impulse when the Ethereum Alliance was founded in March 2017. This is a software platform for Ethereum with more than 150 large organizations. For example, MasterCard, Microsoft, Intel and many other organisations.
By announcing the Ethereum Alliance, the Ethereum by Vitalik Buterin gets a growth spurt like never before. The growth from March 2017 is also the starting signal for a huge bull run in the entire crypto market. The Ethereum platform suddenly has to deal with an enormous amount of ICOs (initial coin offerings).
Vitalik now
Buterin is still working on improving its platform every day, together with a whole team of developers. He regularly shows up on the Ethereum foundation blog. On Twitter Vitalik Buterin is also very active. He often has his opinion ready on a wide range of issues, whether it is about bitcoin, Ethereum, or crypto in general.
Vitalik Buterin continues to strongly believe in his project. Something that is difficult in the crypto world as it is rife with competitors to Ethereum. Some recent projects that have gotten attention as "Ethereum killers" are EOS and NEO. Both of these platforms have their own blockchain on which developers can develop decentralised applications.