The Dutch Central Bank has approved BTC Direct's application as a crypto service provider. For us, this means that we are recognised as a legitimate cryptocurrency broker by the regulators. But what does this mean for you? Crypto brokers are now required by law to check if your receiving address is truly yours. BTC Direct must also adhere to this.
Upload a screenshot of your receiving address
To verify if a receiving address is really yours, we would like to receive a screenshot of the screen where your receiving address is shown. Below you can read step by step how to do so:
Step 1: Buy cryptocurrencies
Fill in how many euros or coins you want to buy at the order amount. Choose your payment method (e.g. bank transfer). Then paste the cryptocurrency receiving address of your wallet into the purchase form. Accept the terms and conditions and complete your payment.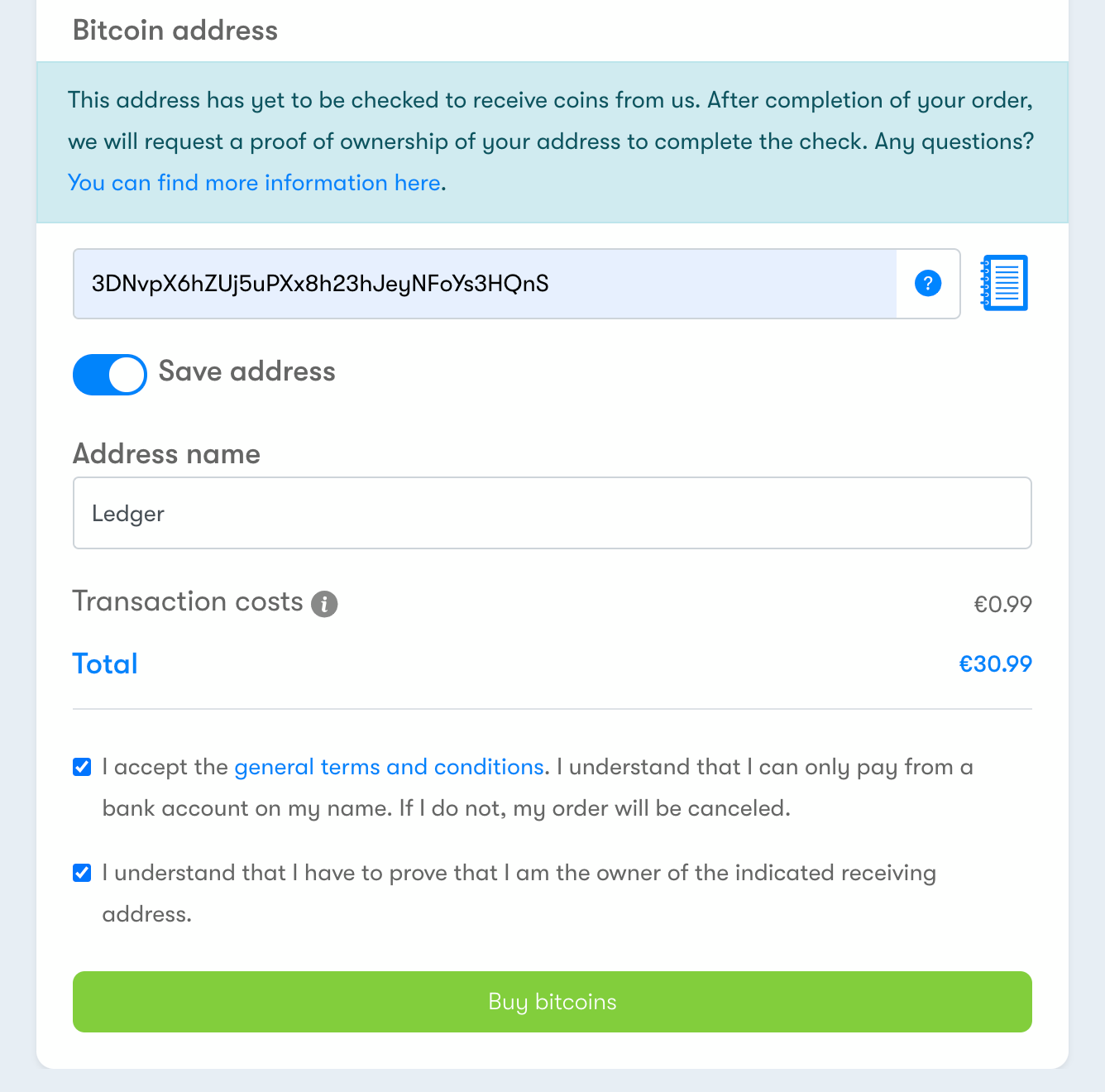 Step 2: Take a screenshot
Now we will ask you to send a screenshot of your receiving address.
Go to your wallet and take a screenshot of the whole screen. On the left you can see an example of how we would like to receive this screenshot. The right image will be rejected.
How do I take a screenshot?
For your computer: Take a screenshot with Control + PrintScreen (Windows) or Command + Shift + 3 (Mac).
For smartphone: With an Android phone, take a screenshot by pressing the power button and the lower volume button at the same time, holding for a few seconds. Do you have an iPhone? Then press and hold the home button together with the power button on the side or bottom of your phone.
Step 3: Upload screenshot
Go back to BTC Direct. Click on 'Select image' and find your screenshot. Now click on 'Send image'.
Step 4: Just a moment, please!
We are now verifying your receiving address. We will approve your address as soon as possible, within our working hours.
Exception: video call
If the screenshot does not provide sufficient proof, we may ask you to show the receiving address in a video call. This conversation will only take a couple of minutes, and after this call your receiving address will be approved immediately.
One-time only
We understand that this extra step can be a nuisance. But don't worry, the procedure is quick and one-time only. Want to buy cryptocurrency with the same address after this check? Then they will be shipped immediately. And of course we take good care of your data.
What is a receiving address?
A receiving address is your personal cryptocurrency account number. It is a long, random sequence of numbers and / or letters. You send, receive and manage your coins with this address.
Where can I find my receiving address?
You will find your personal receiving address in your wallet. With most wallets, it's enough to click on 'Receive.' Most of the time, the address will be accompanied by a QR-code.
Do I always have to have my address checked?
If you always use the same address, you only need to have this address checked once. Every receiving address used on our platform for the first time has to be checked by us.
Tip! Save your address in your address book on BTC Direct.
What if my wallet keeps changing the receiving address?
Most wallets frequently generate new receiving addresses to increase the privacy of their users. Although the displayed address has changed, the previous addresses remain valid. As long as you have correctly copied and pasted an address from your wallet, you can save it in your BTC Direct address book and keep using it to receive coins for future transactions. This way, you don't need to verify new addresses and the coins will be safely delivered in your wallet.
When can I start a video call?
A video call is only possible during working hours. But fortunately, we work a lot. On weekdays from 9 a.m. to 10 p.m., and on weekends and holidays from 10 a.m. to 6 p.m.