You can zoom in on a certain perion by selecting the time frame you would like to zoom in on.
24 hrs. Ago
€529.95
The value of bitcoin cash 24 hours ago
24 hrs. High
€536.40
The highest value of bitcoin cash over the past 24 hours
24 hrs. Low
€514.89
The lowest value of bitcoin cash over the past 24 hours
24 hrs. Change
€2.15
Here you can see how much the value of bitcoin cash has increased or decreased over the past 24 hours
24 hrs. Volume
7,062,749,783
The amount of bitcoin cash transactions over the past 24 hours in euros. Only public exchanges are taken into account here.
BCH Market Cap
10,041,723,037
The value of all bitboin cash on the market combined. This number is calculated by multiplying the number of ethers in circulation with its current value.
Circulation Supply
18,876,187
Circulation Supply
BCH Dominance
0.45%
The share of bitcoin cash in the cryptocurrency market compared to all other coins
Would you like to trade in bitcoin cash? Then you will need to register an account first.
Historical bitcoin cash price
Bitcoin cash exists since August 1st, 2017. Since that day bitcoin cash has a price. When you click 'All' for example you will see that there is no data available before that date. You can adjust the range of the graph by clicking one of the buttons above.
The bitcoin cash value that's shown in the graph is determined by taking the average of several international exchanges. The chart is always up to date.
Below are the most important measures of the bitcoin cash price over the past three years: the highest and lowest price of each year.
| | | | | |
| --- | --- | --- | --- | --- |
| Bitcoin cash price | Lowest price | Date | Highest price | Date |
| 2020 | 149,95 | 15-03 | 454,27 | 15-02 |
| 2019 | 96,02 | 30-01 | 425.93 | 27-06 |
| 2018 | 68,03 | 16-12 | 2499,17 | 10-01 |
What is bitcoin cash?
The inception of Bitcoin Cash was on August 1st, 2017, the day it forked from Bitcoin. A hard fork is a split in the blockchain. Bitcoin Cash and Bitcoin therefore share the same transaction history up until August 1st, 2017, but are now completely separate. Just like bitcoin, bitcoin cash is an online decentralized payment method as well.
The hard fork which created bitcoin cash is the result of a discussion in the crypto community on the subject of scalability. The scaling problem concerns Bitcoin's struggle to process the large amount of transactions on the Bitcoin network.
Looking for a sustainable solution, the community was divided in two. Unable to find a compromise, a hard fork was implemented:
Bitcoin Cash believes larger transaction blocks will solve the scaling problem. When more transactions fit into one block, transactions will be processed faster. The block size of bitcoin is 1MB, bitcoin cash initially increased the block size to 8MB. But since May 15, 2018, the block size has increased more so. The current block size is 32MB. This is the biggest fundamental difference between Bitcoin and Bitcoin Cash.
Bitcoin sees SegWit as the solution. SegWit is a method to separate the signature information from the transaction block. As a result, the space of the transaction blocks is distributed more efficiently, therefore more transactions fit in one block. SegWit also clears the way for applications such as the Lightning Network and Atomic Swaps.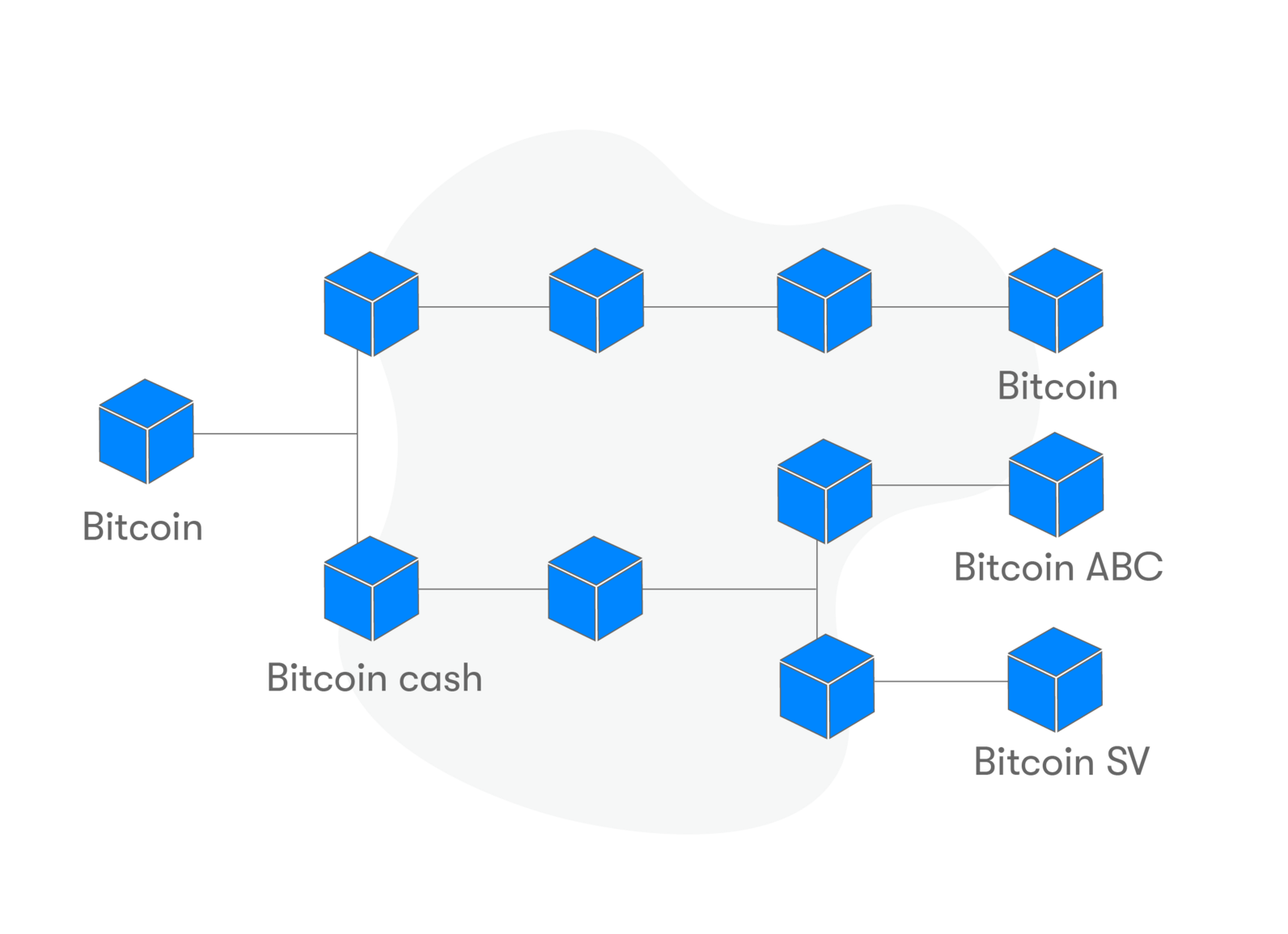 Do you see anything strange in the image above? That could be right. After bitcoin cash split from bitcoin, there was another disagreement. That disagreement led to a new split on November 15, 2018.
The software on which bitcoin cash runs is called Bitcoin ABC. Bitcoin ABC is managed by the Chinese company Bitmain. Amaury Sechet, a Bitcoin ABC developer, announced a number of new updates for the platform, but for the time being, the developers of Bitcoin ABC want to maintain the block size of bitcoin cash.
Craig Wright (who once claimed to be Satoshi Nakamoto) didn't agree with bitcoin ABC's plans. He wanted a larger block size of 128 MB per block, to scale up bitcoin cash even further. That's why he published his own vision on the improvements for bitcoin cash, and calls this new coin bitcoin SV (SV stands for Satoshi's Vision).
Our platform trades bitcoin ABC, so if you see bitcoin cash written on our website we're always referring to bitcoin ABC.
How does the bitcoin cash price develop?
It's hard to tell what the future will bring sice bitcoin cash is a relatively new coin. Since bitcoin cash originated, the coin has experienced several heavy price movements. Here is a break down of the historical price movements and what it is worth:
July 2017 The bitcoin cash hard fork is announced and the speculating begins. On July 24 the estimated price for bitcoin cash is 500 dollars.
August 2017 Bitcoin cash forks from bitcoin. The estimated price of 500 dollars seems like a stretch. Its rate is 306 dollars.
August 2017 One day later, the price momentarily soared to 700 dollars.
December 2017 Bitcoin cash reaches its all-time high so far of 4,000 dollars.
June 2018 BTC Direct starts trading bitcoin cash
December 2018 Bitcoin cash is now worth less than 80 dollars. The price drop can be attributed to the split of bitcoin cash into bitcoin ABC and bitcoin SC.
Investors take two factors into account when they are trying to predict how the price will move. These methods aren't foolproof, but they can give you an indication. The first factor is fundamental news. Think of developments in the protocol, or news about the adoption of bitcoin cash.
The second factor are technical analysis. Price graphs and patterns could indicate how a price will develop in the nearby future.
Only invest an amount that you can afford to lose
Last but not least, we always recommend investing an amount of money that you can afford to lose. In our opinion, investing in cryptocurrencies is one of the more interesting investments you can make, but equally it can be risky due to its volatile behaviour.