Buy crypto directly from your hardware wallet
Easier and safer than ever with BTC Direct.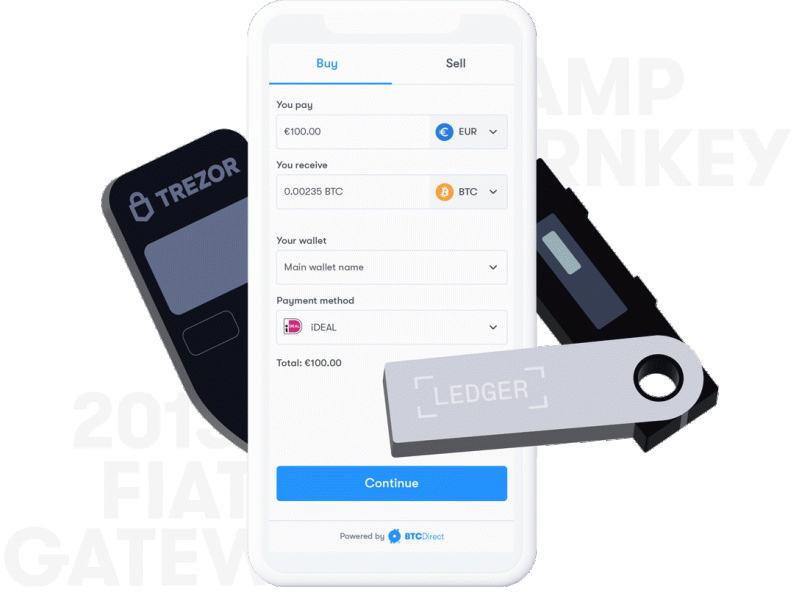 Simpler. Faster. Safer.
Crypto doesn't has to be cryptic. Buy, sell and manage, just from your own hardware wallet.
Incredibly easy
Copying and pasting addresses is a thing of the past... Mistakeproof!
Hackerproof
Coins will always go directly to your wallet: hackers don't stand a chance.
Connect and go!
Connected your wallet? Then you'll always be logged in and ready to buy at the speed of light
Ledger
"Thanks to the partnership with BTC Direct, Ledger is able to provide a frictionless service to European users."
Trezor
"The simplicity, wide choice of payment options and the security of the connection with BTC Direct make us especially happy with this partnership."
Pay with
Europe's favourite crypto platform
Trading bitcoin made safe and simple. Ever since 2013.
How does it work?
Select your hardware wallet:
Ledger Nano S (Plus) of X
Download the Ledger Live application for desktop, tablet or mobile to manage your cryptos. Connect your Ledger to your device and set up your hardware wallet for the first time.
Ready to go? You can buy your favourite crypto in 3 simple steps.
Step 1: Go to Ledger Live, then click Buy/Sell in the menu.
Step 2: Select your desired coin, and click Continue.
Step 3: Select BTC Direct, and proceed the buying process using your favourite payment method.
Never bought from your hardware wallet? Then we ask you to open an account in step 3. If you already have an account, you can log in and complete your transaction.
💡 Tip: You only need to log in once, after that Ledger Live will remember it is you.
Don't have a Ledger yet? Check out the most popular models from our webshop here:
Trezor One or Model T
Buying Bitcoin, Ethereum or other coins with your Trezor is easy! Just use the desktop app Trezor Suite.
Open Trezor Suite and connect your Trezor hardware wallet. Follow the instructions, enter your pincode to access your wallet.
Go to accounts, choose the crypto you want to buy or sell and press the green Trade button.
Choose the amount in Euros you want to buy and click Compare offers.
Choose your preferred payment method from BTC Direct and click Get this deal.
Select Confirm on Trezor and confirm the receipt address of your order by scanning the QR code or by physically clicking on your hardware wallet.
Choose Finish transaction.
You will now be sent to BTC Direct's payment page, where you can complete the payment.
Don't have a Trezor yet? Check out the most popular models from our shop here:
Secux
Go to: secuxtech.com, click on SecuXess and connect your Secux hardware wallet. Follow the instructions and enter your PIN to access your wallet.
Go to one of the coins that BTC Direct offers. We'll use Bitcoin as an example. Click on Bitcoin and wait for the page to load.
Click on the Bitcoin account you want to receive the coins on.
Click on Buy crypto.
Select BTC Direct For Europe & UK customers.
Enter the amount you wish to purchase and choose the payment method.
Click on Preview order.
Read and accept the General terms and conditions by placing a check mark.
Click on Confirm order.
Check the receipt address on your hardware wallet and confirm
Continue with further instructions (these may vary per payment method).
Don't have a Secux yet? Check out the most popular models from our shop here: