24 hrs. Ago
€66.00
The value of litecoin 24 hours ago
24 hrs. High
€66.81
The highest value of litecoin over the past 24 hours
24 hrs. Low
€65.58
The lowest value of litecoin over the past 24 hours
24 hrs. Change
€0.02968311
Here you can see how much the value of litecoin has increased or decreased over the past 24 hours
24 hrs. Volume
250,067,543
The amount of litecoin transactions over the past 24 hours in euros. Only public exchanges are taken into account here.
LTC Market Cap
4,884,137,130
The value of all litecoin on the market combined. This number is calculated by multiplying the number of litecoin in circulation with its current value.
Circulation Supply
73,939,346
Circulation Supply
LTC Dominance
0%
The share of litecoin in the cryptocurrency market compared to all other coins
The table below shows the 'Return On Investment' of litecoin. The percentages indicate the return on an investment in litecoin, measured from three different moments in time.
Would you like to trade in litecoin? Then you will need to register an account first
Like all cryptocurrencies, litecoin always has a price. You are able to trade litecoin every hour of the day since there are no opening and closing hours like on stock exchanges.
You can adjust the range of the litecoin graph by clicking one of the buttons above it. If you click 'All' for example, you'll be able to see the historic price movements for litecoin.
The price that is shown in the graph above is determined by taking the average of several international exchanges.
Below are the most important measures of the litecoin price over the past four years: the highest and lowest price of each year.
| | | | | |
| --- | --- | --- | --- | --- |
| Litecoin price | Lowest price | Date | Highest price | Date |
| 2020 | 27,07 | 13-03 | 105,80 | 30-12 |
| 2019 | 25,87 | 14-01 | 124,55 | 23-06 |
| 2018 | 20,30 | 14-12 | 241,03 | 06-01 |
| 2017 | 3,48 | 24-01 | 306,08 | 18-12 |
History of litecoin and its price
Litecoin is one of the very first altcoins. It has always had a spot in the top 10 cryptocurrencies on Coinmarketcap.com- a website that arranges cryptocurrencies by the size of their market capitalisation.
Altcoins are all cryptocurrencies other than bitcoin. Bitcoin was the first adopted cryptocurrency, so to some extent all other coins have derived from Bitcoin. In 2011, two years after the introduction of Bitcoin, Litecoin entered the market as the first altcoin. Because bitcoin was often referred to as 'digital gold', litecoin quickly became 'digital silver'. It's also affectionately called bitcoin's baby brother.
Contrary to Bitcoin, Litecoin's creator is not anonymous. Litecoin was developed by Charlie Lee, a former employee of Google. His goal was to develop a faster and cheaper version of bitcoin.
Litecoin quickly gained more followers and it became one of the most popular altcoins. Litecoin shares many similarities with Bitcoin, however there are a few fundamental differences. For example, it only takes 2.5 minutes to mine a new transaction block compared to the 10 minutes it takes for Bitcoin. In addition, the maximum amount of litecoins that will ever be in circulation is a predetermined amount of 84 million, compared to bitcoin's 21 million.
In addition, Litecoin is often at the forefront of innovation. Litecoin's market cap is much lower than Bitcoin's and therefore the potential risks of innovation is lower too. This makes it easier to test new projects, for example: SegWit, the Lightning Network, and Atomic Swaps have all been implemented in Litecoin before they reached Bitcoin.
A short history of the litecoin price
Just like bitcoin, the litecoin price has had its ups and down. This can also be seen in the graph above if you click 'All'. Below you will find some historical litecoin price facts:
Litecoin is introduced in 2011 and quickly reaches a price of 30 dollar cents (USD).
On November 18th, 2013, litecoin's price is approximately five dollars. Within ten days, the price increases tenfold to approximately 50 dollars. However, the bankruptcy of Mt. Gox pulls the whole crypto market down and it will take a long time before litecoin reaches new highs.
January 2017, litecoin starts the year with a price of approximately 4 dollars.
Halfway through 2017, litecoin exceeds 50 dollars for the first time since 2013.
By the close of 2017, litecoin's value is soaring. The all-time high is set at approximately 371 dollars.
Will litecoin stabilise?
Just like bitcoin, litecoin's price is still very volatile. This isn't that striking since it concerns a relatively small market- a lot smaller than bitcoin. In practice this means price fluctuations are often even more extreme than with bitcoin.
But will litecoin eventually stabilise? Like with all currencies: the more money circulating in a currency, the more stable it becomes. We expect that the entire crypto market will expand even further, and Litecoin is well positioned to grow along with that.
To make things more clear, the image below represent the entire stock market. The green blocks represent the crypto market, the rest is the stock market. As you can see, crypto has plenty of room to grow.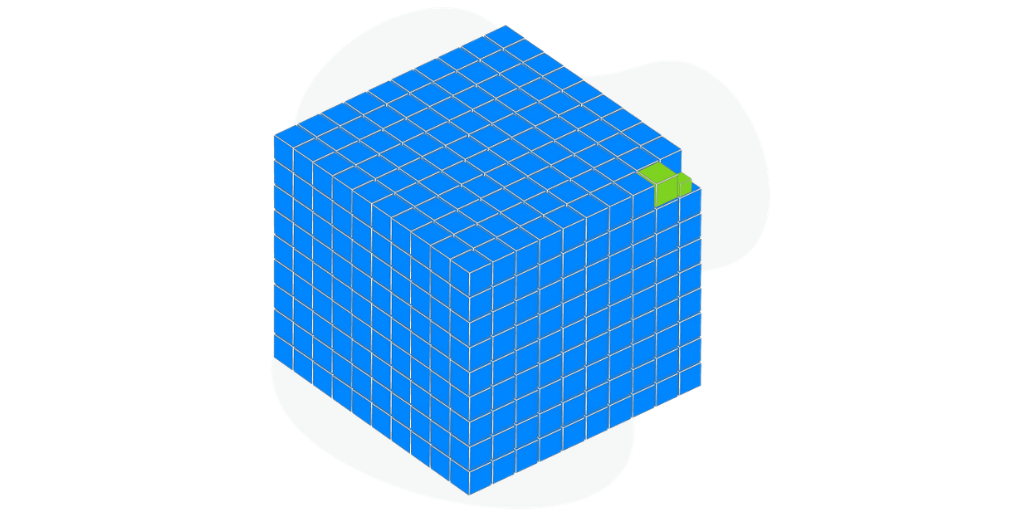 What to expect from the litecoin price?
It won't be a surprise that we're very optimistic about the coming years. We won't be amazed if we'll reach some new all-time highs within a few years. However, the cryptocurrency market is always full of surprises.
It's impossible to make an accurate prediction on the short term. That is why if you wish to invest in litecoin or other coins, we recommend to invest with a long term vision. In the short term the price largely depends on the daily sentiment and news reports which might not even be that accurate.
In the case of altcoin prices, we often see strong correlations to the developments of bitcoin's price. The prices increases and decreases just as bitcoin's does. It remains to be seen if they all continue to do so in the future, but since litecoin is so closely connected to bitcoin, this is quite a possibility.
Only invest an amount that you can afford to lose
Last but not least, we always recommend investing an amount of money that you can afford to lose. In our opinion, an investment in cryptocurrencies is one of the most interesting ones you can make, but equally risky due to its volatile behaviour.
Let today be your first day in the world of crypto. Get started with buying your first litecoin by clicking this button