Whether you're on the move or just having a lazy day on the sofa, sometimes you want to check how your bitcoins are doing without opening your laptop or PC. Fortunately in this modern age you can do these things with your iphone or android. In this article we discuss the best apps for portfolio tracking, software wallets and more!
Important note: When installing any apps, ensure that the name of the app and the name of the developer match the names given in this article.
With some wallet apps there is a seed or private key (12 or 24 words) that you need to write down. With a private key you always have access to your bitcoins- even from another wallet! This can be very useful in case of loss or theft of your iphone or android phone. Never store your private key in your smartphone. Your phone is constantly connected to the internet, and is therefore vulnerable to being compromised. It is best to stick to the traditional method of writing down your private key using pen and paper and storing it in a safe place.
Breadwallet
Available on ios or android Breadwallet is an excellent place to start for people unfamiliar with mobile wallets or other technical applications. This app has a very clean interface, and is suitable for managing bitcoins and other cryptocurrencies such as Ethereum.
The app has limited functionality but scores high on the user-friendly scale. With the Breadwallet you can manage, send and receive bitcoins. In addition, the Breadwallet offers the possibility to scan the blockchain if something goes awry with a transaction. Due to the simple interface, Breadwallet is suitable to novice crypto users and day to day users alike.
Developer: Breadwallet LLC.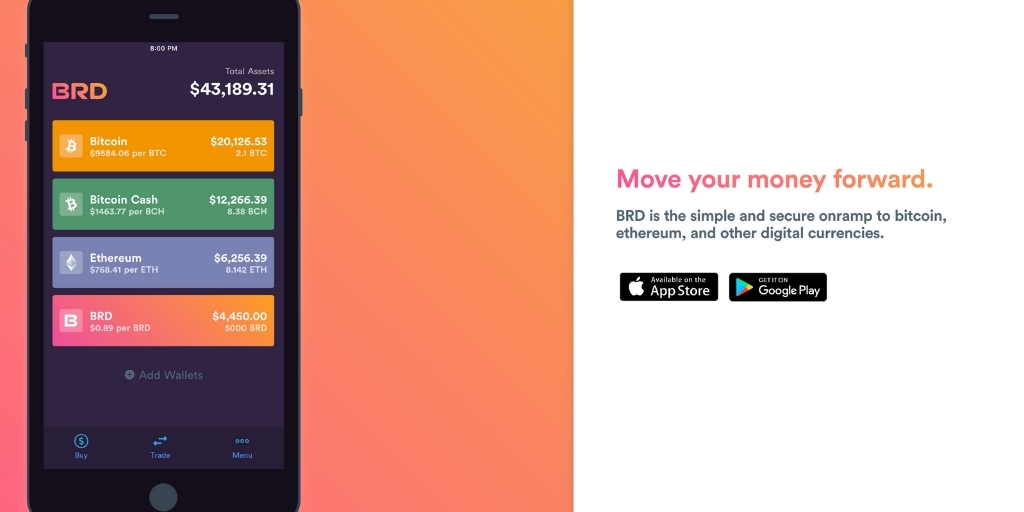 Coinfolix
This app is suitable for managing your portfolio and is available to ios and android. Simply enter the number of bitcoins and other cryptocurrencies that you own, and you'll immediately see what they're currently worth. In addition, with this app you can track all sorts of crypto coins on the basis of handy price charts.
Although this app doesn't function as a wallet, you probably don't want to share information about your portfolio. The app therefore offers the possibility to protect this data discreetly with a password and TouchID (fingerprint recognition).
Developer: Coinfolix
BTC.COM
The BTC.com wallet also exists in desktop form, and is an extremely reliable wallet for managing your bitcoins. The mobile version on iphone and android offers a clear interface with various functions. With the BTC.com wallet it is possible to manage, send and receive your bitcoins. In addition to support f or bitcoins, this wallet also offers support for bitcoin cash.
Developer: Blocktrail BV
ZeroBlock (iphone/ipad only)
This app combines multiple functions in one. ZeroBlock offers the possibility to follow price charts, to reading relevant news items or setting price notifications for various cryptocurrencies. The app has a relatively straightforward design, while remaining a solid resource to news and the developments of bitcoin. Not yet available for android.
Developer: ZeroBlock
Blockfolio
One of the first apps for monitoring your cryptocurrency holdings, Blockfolio later evolved to sharing news and updates on bitcoin and other cryptocurrencies. There is a feature to hide your holdings for your own privacy as well as a night mode for the die-hards that examine their growing portfolios through the night. While blockfolio doesn't have any unique features per se, it gets the job done as portfolio tracker.
Developer: Blockfolio, LLC.
CoinATMradar
Do you see a good time to buy bitcoins, but seek out an alternative method to buying bitcoin? Perhaps there is a bitcoin ATM in your area! With the CoinATMradar app you have a handy overview of all bitcoin ATMs in the world. In Europe, Bitcoin ATMs are traditionally more popular in the bigger cities with a strong presence around London and Vienna.
Developer: Rolf Deppe